Content planning is an essential part of content marketing. It's the process of creating a plan for the content you create, publish, and promote. It plays the most important role in digital marketing, but its preparation can often be behind the screens.
A good content marketing strategy and planning helps you stay organized, increase the effectiveness of your advertisement channels, and reach your target audience. When done correctly, content planning can help you achieve your content marketing goals and increase your ROI.
So, how do you get started with your own content marketing strategy?
First, you need to decide on your content topics.
Then – establish your goals and determine what success looks like.
Next, you need to identify the channels that you're going to use, who you're targeting, and how you're going to measure success.
Finally, it's time to create a content calendar. This is where you'll plan out the timing and format of your content and ensure that everything is ready on time.
With the right content planning in place, you can ensure that your content is engaging, targeted, and meets your goals.
What does "content planning" mean for social media managers and why do marketers need to create a content marketing strategy?
Arranging your social media posts in advance is beneficial, but it is just a minor element of what constitutes an overall content plan. A content plan that is truly effective focuses on the bigger picture – your marketing goals.
Why is content planning so important?
Figuring out your social media marketing objectives and formulating content ahead of time that is in line with and advances those goals. Your content marketing plan is what you intend to accomplish and the steps you will take to get there. Content planning is the activity of coming up with content that fits those objectives to help you reach the desired outcome.
7-Steps on how to create a winning content plan
Before deciding on the right content marketing plan for you, it's important to consider what you'd like to achieve and why you want to create content. Having a clear understanding of your business goals will help you make the best decisions for your strategy and content creation process.
In order to be successful in goal-setting, it is important to set objectives that can be accurately measured and are attainable.
Additionally, each piece of content should have its own goal depending on the funnel stage, which channels are used for promotion, and the specifics of the target audience. Finally, it is essential to make sure the goal of the content is in sync with the general marketing plan so that the results can be utilized to achieve the larger business objectives.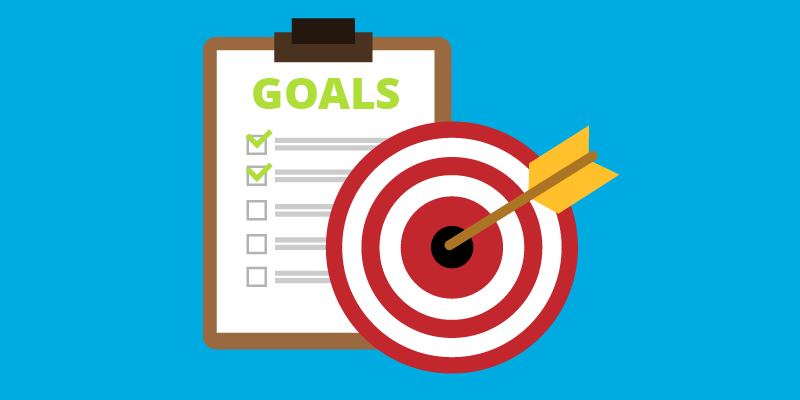 Step 2: Channels and formats you will focus on
You should consider making your content marketing plan applicable for the platforms you run.
Make sure you create different formats, as well as craft new material tailored to each platform. Making use of social media is essential for broadening the reach of your brand and providing your customers with content in places they frequent.
Popular social media sites include Facebook, Instagram, Twitter, LinkedIn, Pinterest, Snapchat, and YouTube.
When you start a business page on any of these networks, adjust your content to be suitable for the social media platform. Here you can find out how: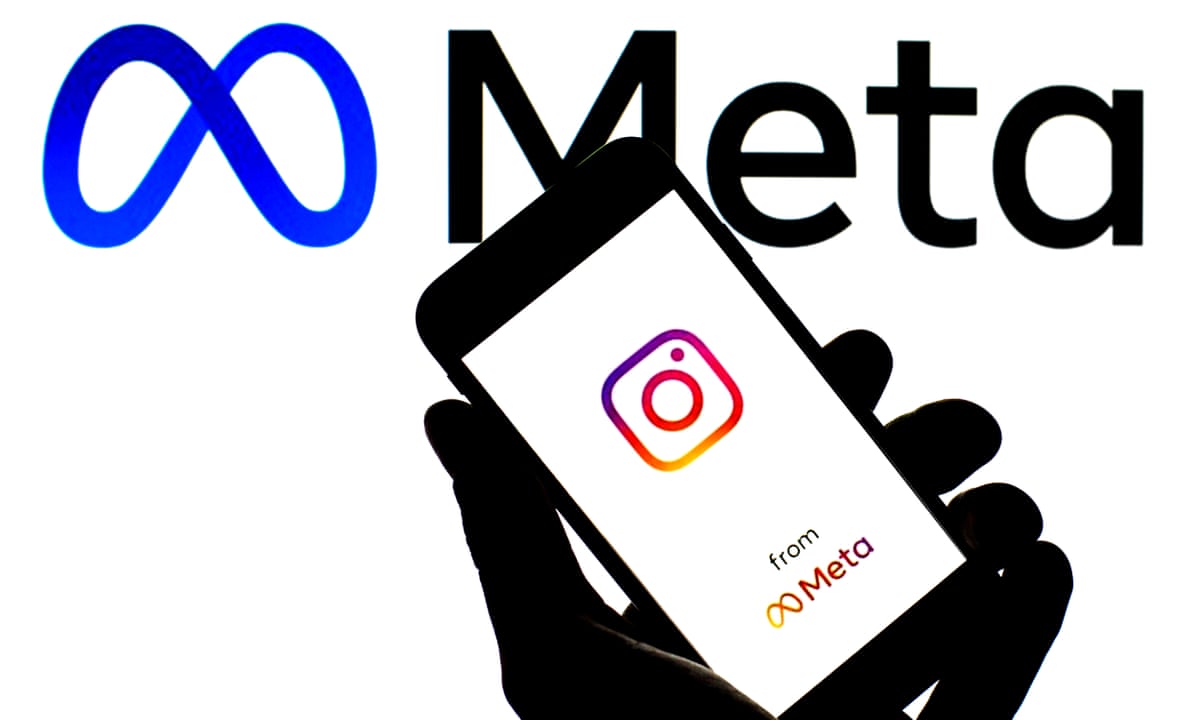 Out of millions of posts on such networks as Instagram and Meta that are created almost every day, which ones will actually work for your business?
There are 6 main milestones that need to be included in different content pieces to test what would work better for your business and catch your target audience better:
1. Relevancy
2. Urgency, to underline the offer
3. Text overlays
4. Trendy: sounds, music, editing, styles 
5. Length (for videos) – 15-30s
6. Refresh and make something new approx. 7-14 days 
7. CTA's at the end
Some ideas on the scenarios that worked the best for us in eCommerce:
1. Product unboxing 
2. Product Demo 
3. Step-by-step guide 
4. Testimonial/Review*
*remember what makes your product unique between other Brands and your benefits 
Why it makes sense to include them for any other eCommerce business to test? 
1. Build anticipation & curiosity on what it is like to receive – like getting a gift 
2. Shows the product in use, how it works, and who it is for
3. Shows real people using it, which influences others to buy
The best practices, examples: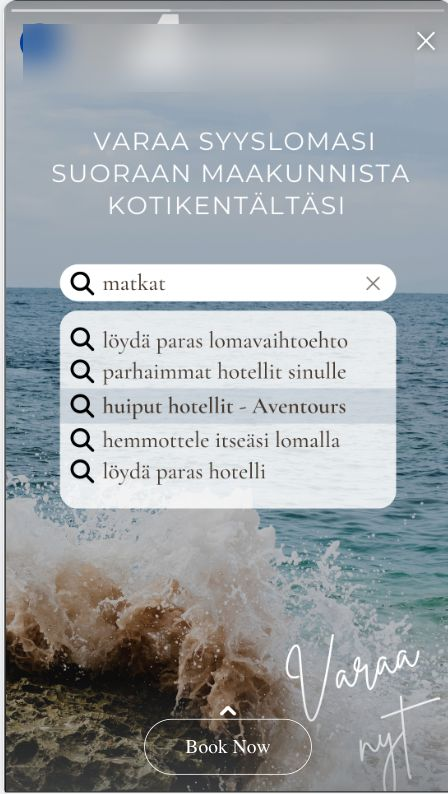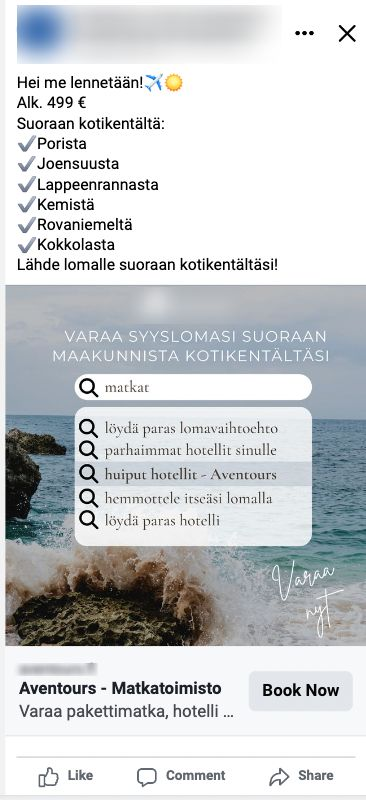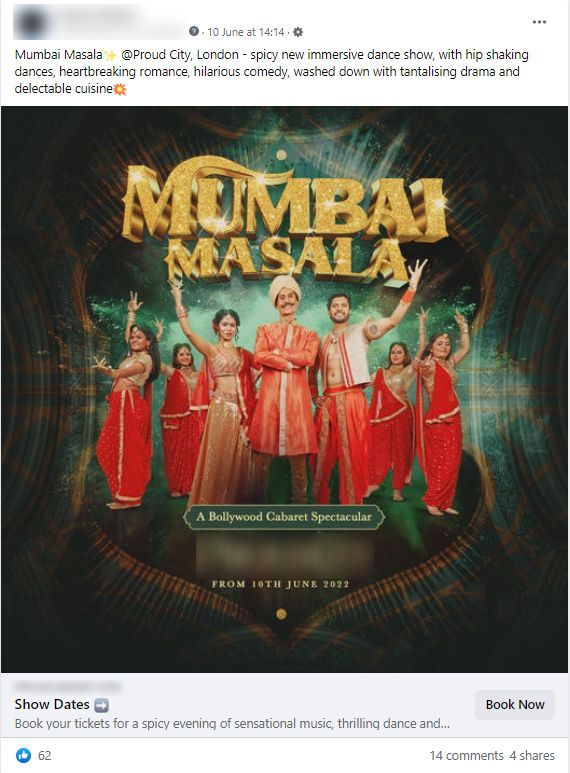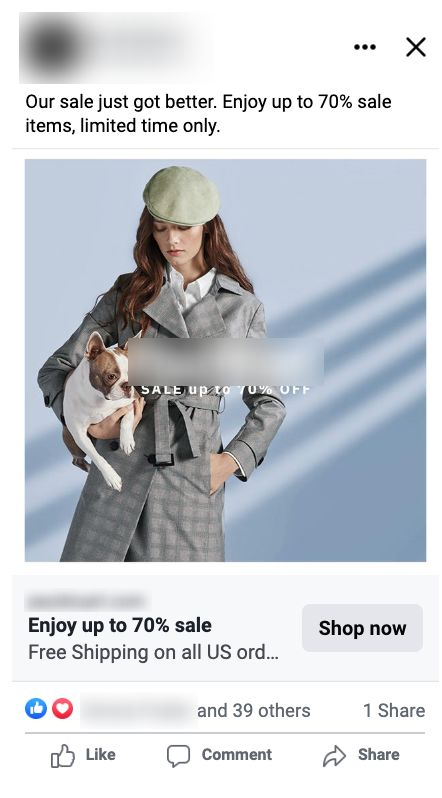 When you create a task for your designer or you make it by yourself, you should remember the requirements:
Image:
Design Recommendations
File Type: JPG or PNG 
Ratio: 1.91:1 to 1:1 
Resolution: At least 1080 x 1080 pixels
Videos:
Design Recommendations
File Type: MP4, MOV or GIF 
Ratio: 1:1 (for desktop or mobile) or 4:5 (for mobile only) 
Video Settings: H.264 compression, square pixels, fixed frame rate, progressive scan and stereo AAC audio compression at 128kbps+
Resolution: At least 1080 x 1080 pixels 
Video Captions: Optional, but recommended
Video Sound: Optional, but recommended
You can use different formats in the Facebook News Feed to show off your product, service, or brand. Interesting and high-quality images of a product and eye-catching videos that describe the product features can help you show off your brand personality and scale!
TikTok gives everyone the ability to make remarkable videos. If you take the time to evaluate the performance, coverage, and effect of your video clips over time, you can have a content marketing strategy based on data and create videos that are attractive to your audience.
Requirements:
3-5 videos to start

Aspect ratio – 9:16

Resolution – 720 x 1280 px

MP4, MPEG, MOV, or AVI format

Duration – between 5 and 16 sec

Size less than 500 MB
Other suggestions:
It should be native

First 3 sec – the most important and must contain a scroll-stopper

Use text overlay with hooks

Follow trends (sound, editing, styles)

Length – 15-30 s.

Refresh creative approx. every 7-14 days

Must have sound

CTA's at the end
You can check more regarding TikTok content 👉 here
–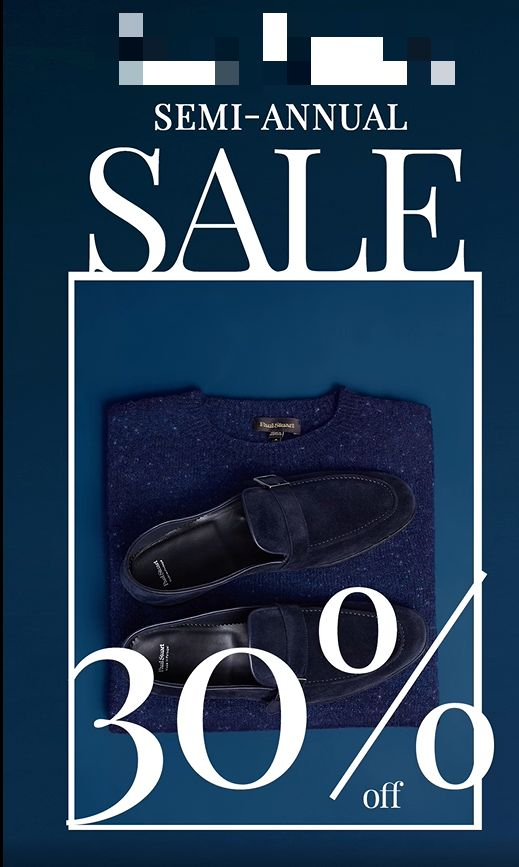 For Google Ads, it's important to have texts: headlines, descriptions, and extensions, that are compatible with your landing page and keywords.
When you are editing headlines and descriptions for your business, the following questions need to be asked:
What are you offering your customers? Do not complicate matters. If you are marketing sunglasses, make sure to mention that clearly.
What difficulty are you eliminating for your customers? Phrases such as "Get your new look for summer" or "Display your personality" can aid potential customers in recognizing the worth of your items.
Why should someone purchase from you right now? If you have a holiday sale or short-term offers, let your crowd know, so they can take full advantage of those offers.
What makes your product or service stand out? Buyers may want to know if your enterprise is veteran-owned or if you only use organic materials. Make sure to impart that information.
Why should someone select your business instead of your opponents? Customers have many choices. Tell them that you have the highest customer satisfaction rating or that you provide a risk-free return policy for 30 days to help them make their decision.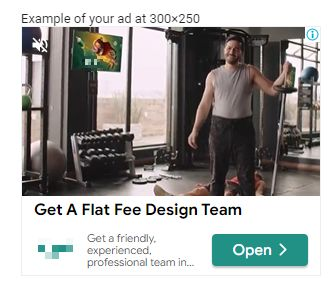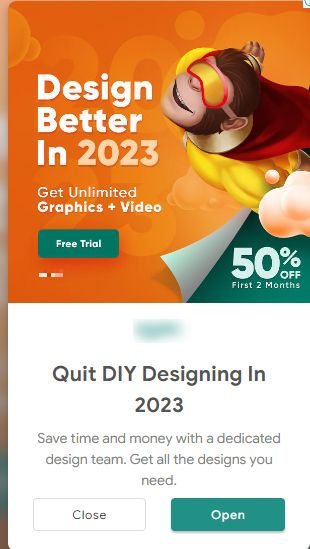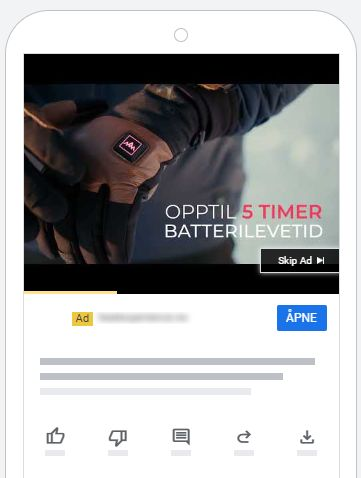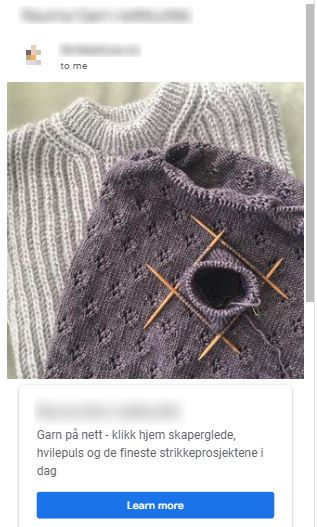 You can find more about the requirements for creating content 👉 here.
Extensions also are an important part of any digital marketing strategy. By creating the right extensions, businesses can ensure that the text on the page, in the ad, and the underlying semantics all match and intersect in a way that resonates with the audience. This can result in more successful marketing campaigns and increased customer engagement.
There are 19 different ad extensions which are available on Google Ads, eight of which are set up automatically by Google's algorithm based on the data and information from your account and website, while the remaining eleven must be established manually by users. It's up to each user to decide which approach is more suitable for their needs, as there is no definite "correct" answer.
Setting up manual extensions takes some time and effort, but the user can customize them to fit their preferences.
Check more information regarding extensions 👉 here.
Where you can get inspiration: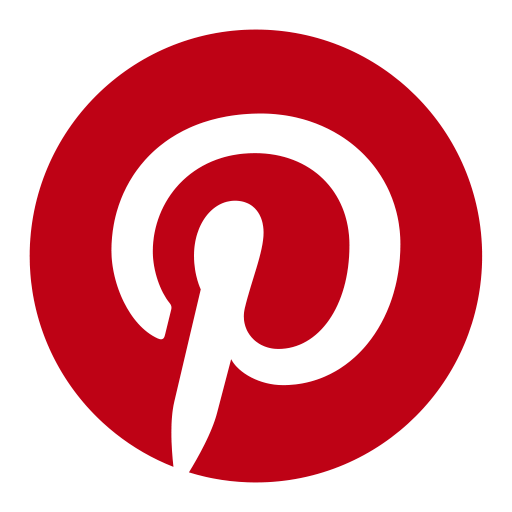 Pinterest enables users to create and store virtual pinboards. They can be populated with inspiring and attractive photos either taken from the website, the internet, or from the user's own computer. It is a useful tool for keeping track of and categorizing design ideas that also allows users to share them with their followers. People can also make secret boards that are only accessible to them.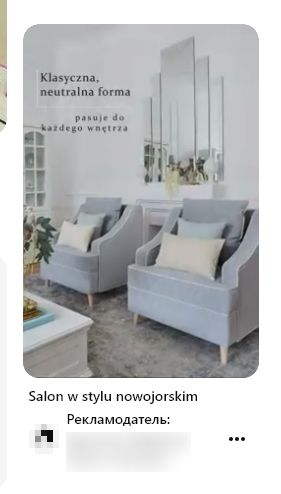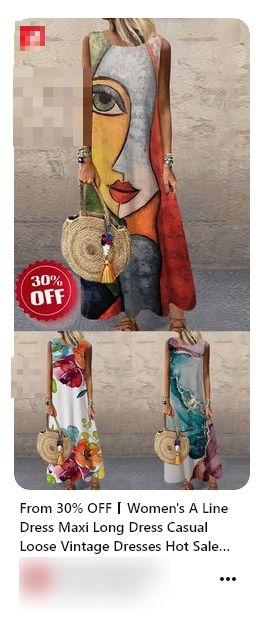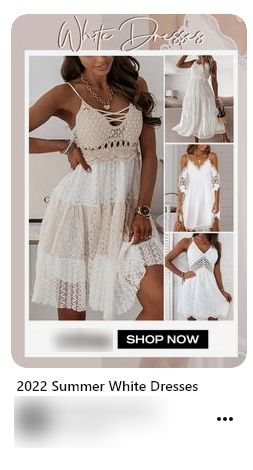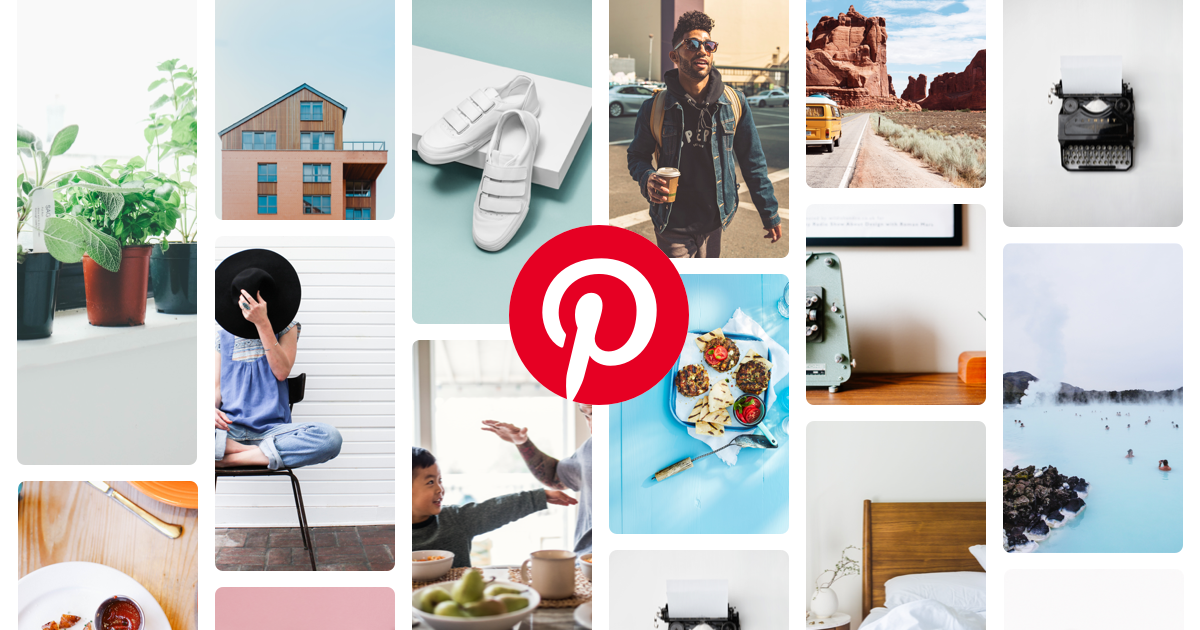 'Stock photos': Facebook has a deal with Shutterstock that allows FB advertisers to use their photos as creatives on their ads (without the 'Shutterstock' watermark).BTW: Be careful when selecting stock photos, they are heavily used and can easily blend into the background on the highly competitive FB newsfeed.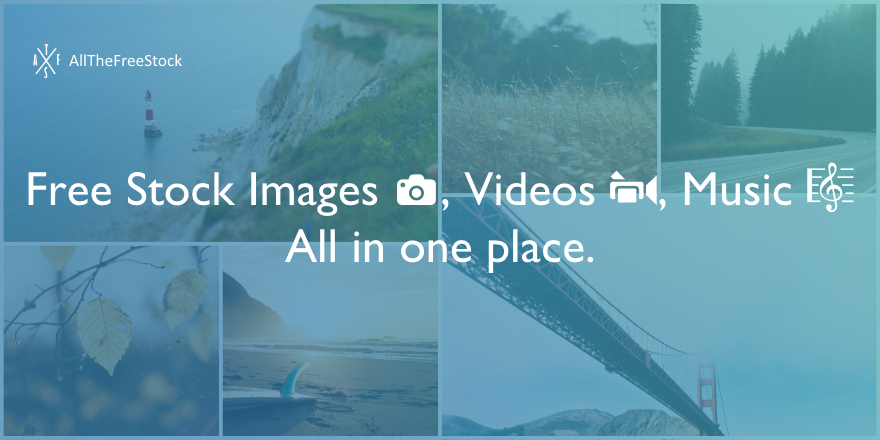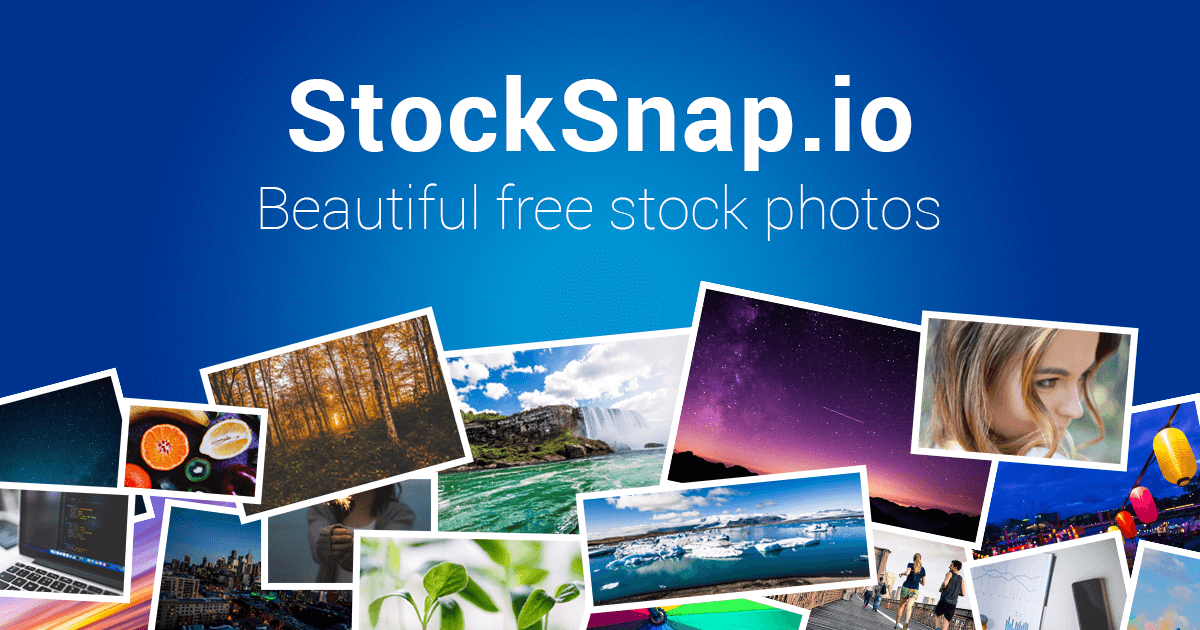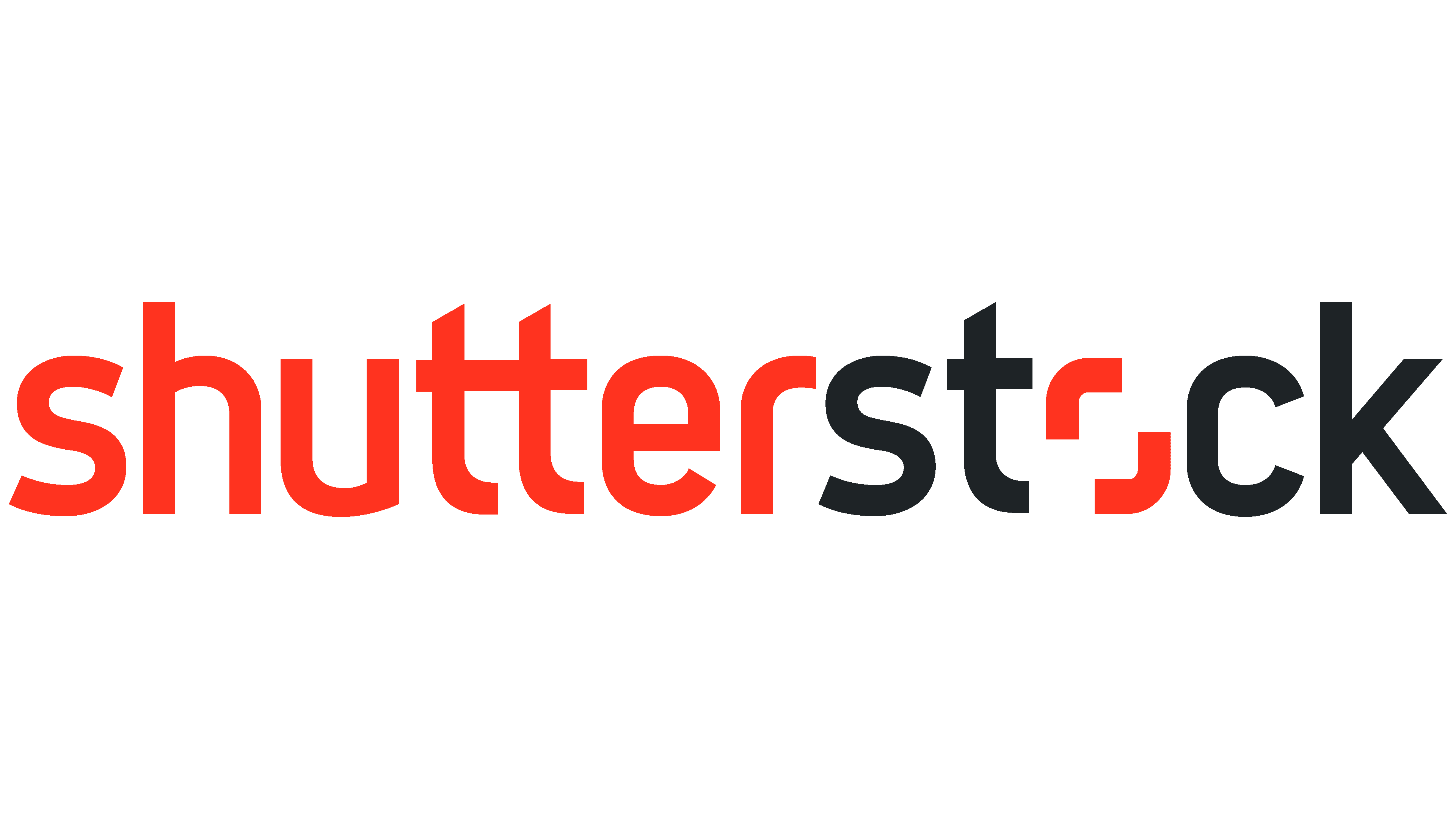 The Facebook Ads Library has been created with the intention of being user-friendly and available to everyone, from those who are just starting out with Facebook advertising to those who are already experienced.
To be able to access the Facebook Ads Library, go to Facebook ads library and select the area, type of ad, and keywords. You can also use brand names in the keywords box to find out ads from your competition.
One of the best ways of knowing what you should be doing is to have a look at what your competitors are doing. This is referred to as competitive analysis and it is an excellent way to learn from your industry peers. The Facebook Ad Library makes competitive analysis easier as you can view all the ads your rivals are running.
You can also observe when and where they are running them, plus the way they crafted their messaging. By taking note of this content, you can modify your Facebook ad strategy so that you can use the most effective tactics of your competition (as well as avoid their worst ones).
This could involve adjusting your budget, altering your targeting, and so on.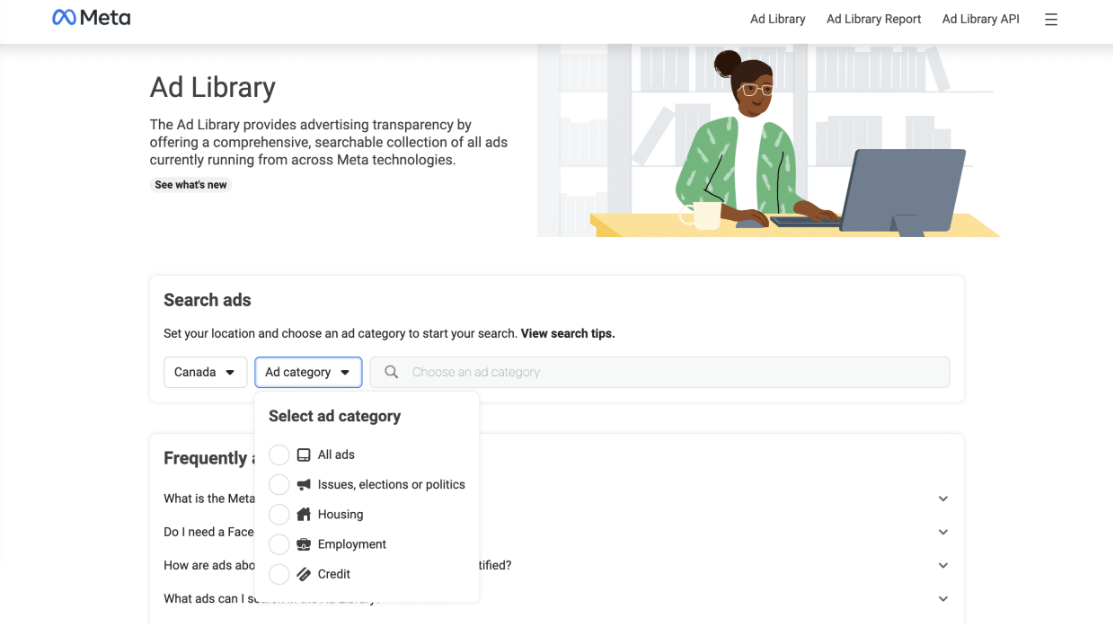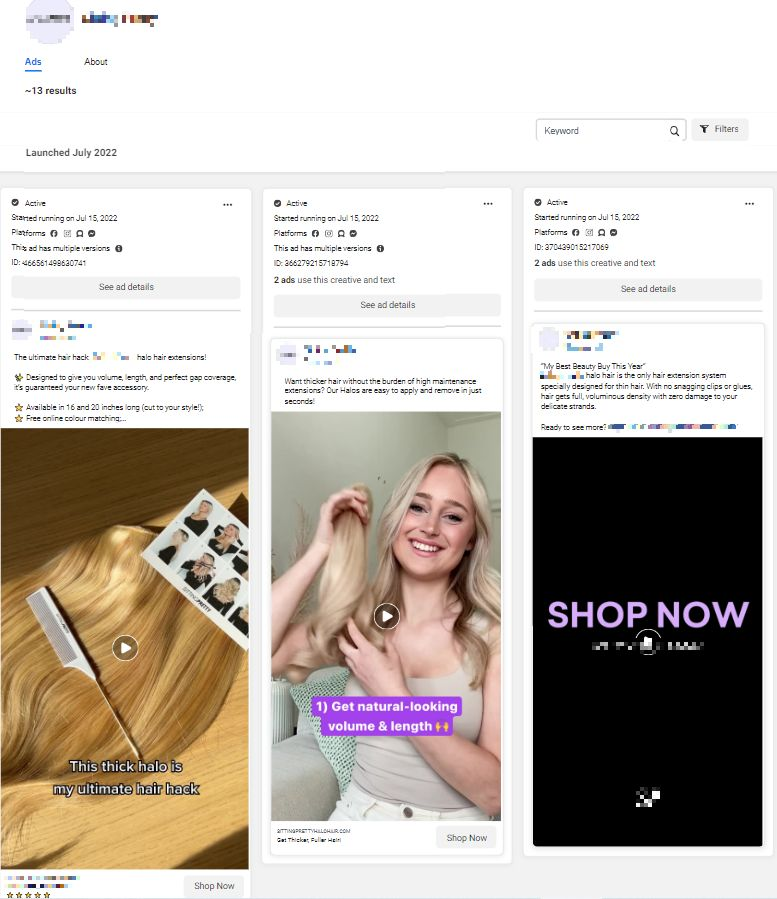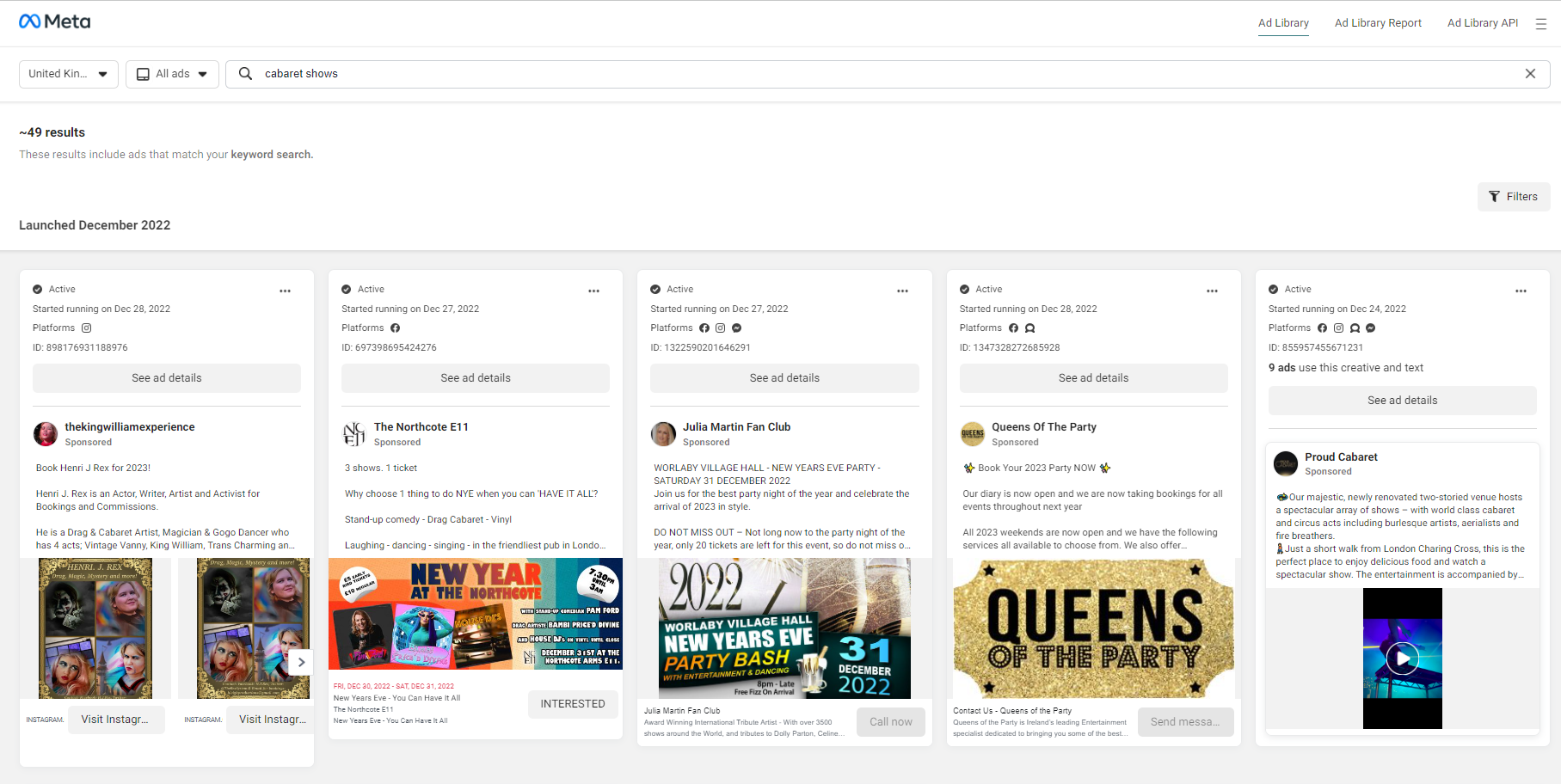 Looking at what your competitors are doing can help to give you ideas for your promotional messaging. The Facebook Ad Library enables you to look for advertisements based on who has placed them so that you can observe how they construct consistent campaigns.
At the TikTok Creative Centers, advertisers and creators can stay up-to-date with the most recent TikTok trends, and they can obtain royalty-free audio, templates, and soundtracks at no cost. This allows advertisers to create better ad videos that reach a wider audience and maximize their TikTok follower base. Furthermore, all Creators have the ability to observe the most preferred TikTok ads and have an enhanced chance of replicating them.

You can always check TikTok Trends and take a look at the hot trending content right now.
Additionally, TikTok Creative Center has a lot of sections that are helpful:
Inspiration section

TikTok Top Ads

TikTok Trend Discovery

TikTok Showcases

TikTok Insights

TikTok Video Editor

TikTok Audio Library
There, everyone can find what they need, from content to Analytic insights.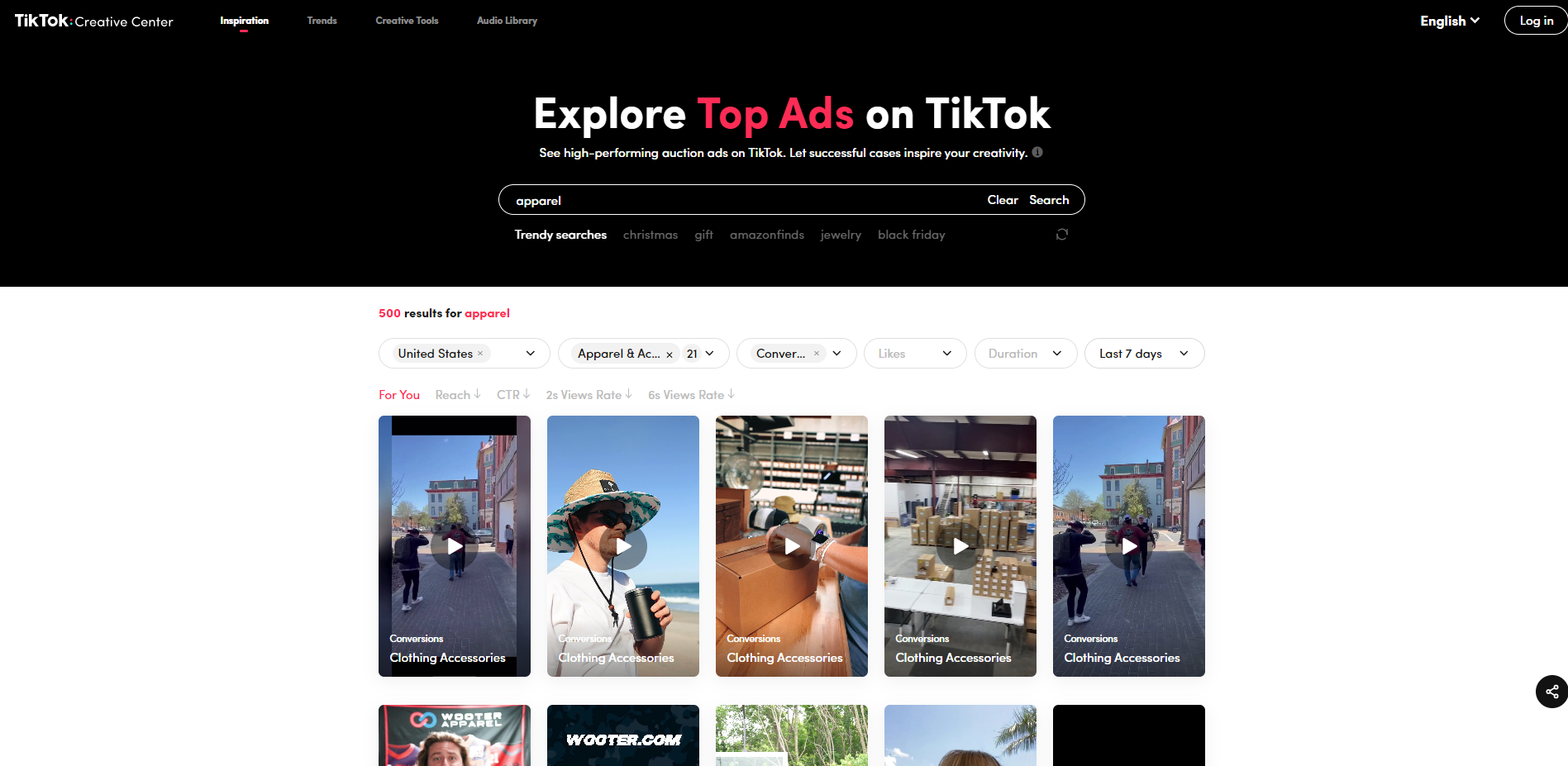 The fact is, TikTok trends, ads, and content, change rapidly, so by the time the same trends appear on the Trends page, they are already out-of-date. So, one of the best ways to know about the ongoing trends is to follow particular popular accounts.
Step 3: Content's target audience
The next step in your content marketing planning is defining a persona for your typical customer.
The most effective way to gain insights about your audience is to prepare a buyer persona profile. Before you begin gathering data, constructing a template for the profile is recommended so that you can concentrate on the most relevant features.
This will enable you to focus on the most significant points.
The next step is to study what competition you will be facing when attracting your target audience's attention.
But remember, it won't be only your traditional competitors you will be competing with. For starting from scratch, we have a few resources you can use to learn more about finding your audiences.
Here are some of the options available to you when it comes to researching your content audience:
Collecting data on age, gender, location, and family/professional status (demographics).
Gaining an understanding of their values, attitudes, and objectives (psychographics).
Investigating their personal/professional goals (beliefs and values).
Identifying any challenges and roadblocks (pain points). Uncovering any influential factors and sources (events, influencers, media).
Analyzing the buying process (frequency and decision making).
When it comes to deepening your knowledge of your content audience, remember to include more than just your customer base. Gather a mixture of quantitative and qualitative data, and get insight from customer-facing sources such as surveys, social media, and reviews.
Don't forget to consult unconventional sources such as your competitors. It is also wise to concentrate on one buyer persona and their particular needs instead of attempting to cover all their needs in a single piece of content.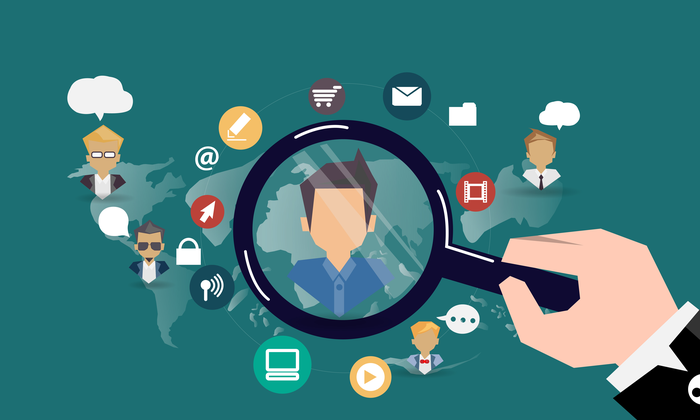 Google Trends
With the help of Google Trends, one can gain an understanding of the things people globally are looking for on the web. It evaluates the frequency of the most used search queries through Google Search across different regions and languages and provides graphs to display the query's search volume over a certain period of time. One can stay up to date with trending searches, or type in any query to be pointed to related topics and searches. This can help content creators customize their work to better suit what people are interested in. Your keyword research will likely yield some surprising results and give you new ideas for content.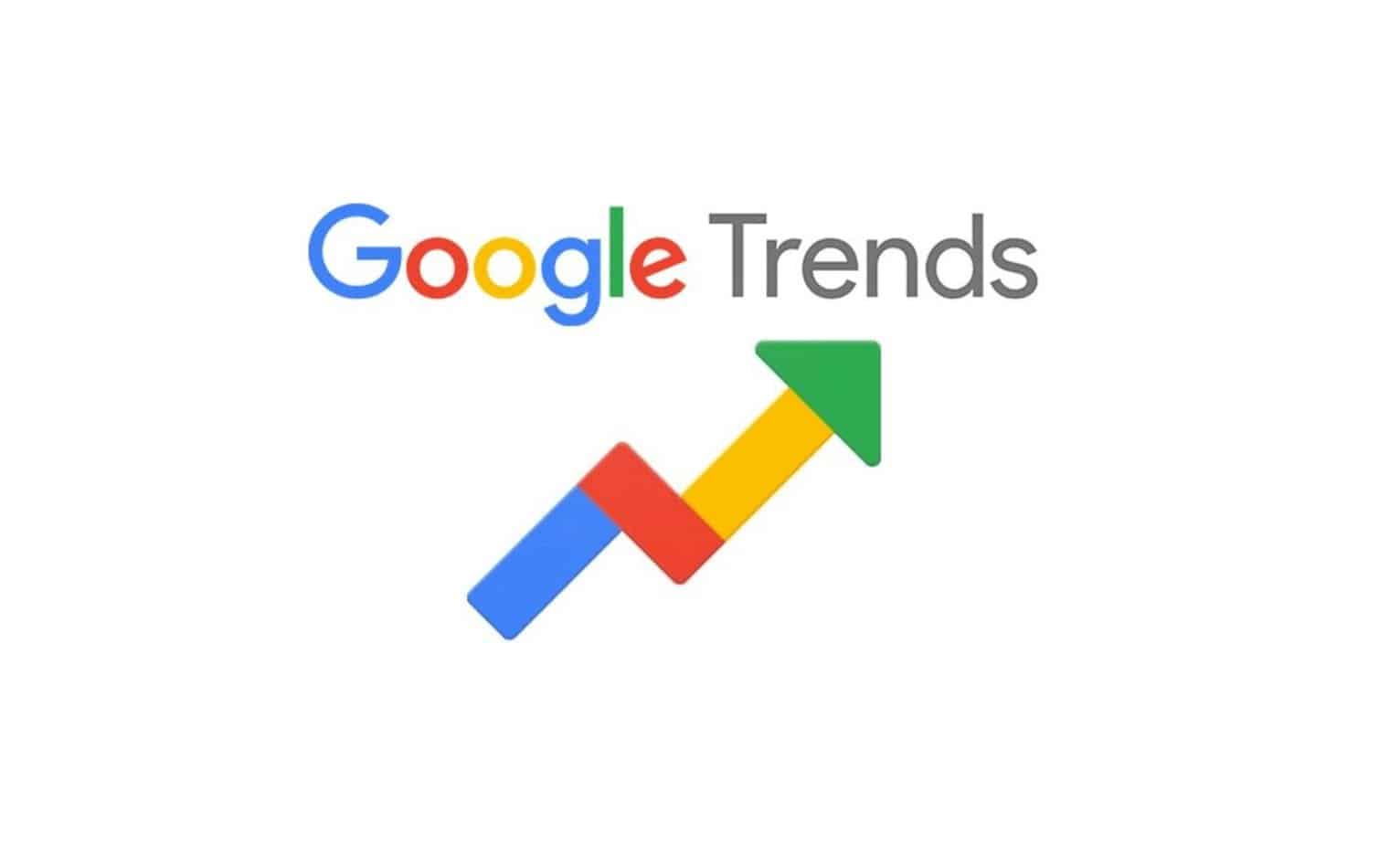 Step 4: Plan themes for your content
The best way is to brainstorm ideas for content.
The initial stage of this process is to make a list of all the thoughts that come to mind. With an understanding of business goals, target audience, and content formats, it will be easier to generate ideas. Additionally, you need to understand why you are creating content, who you are helping, and how you will help them in a way no one else can. After that, you can pick the best idea and share it with a designer.
Tips:
Begin with the genuine issues that your customers are facing, and concentrate on long-tail and related keywords that accurately portray the nuances of the topic.
Reuse existing concepts, both your own and those of your competitors.
Assess how the existing material has performed and tweak the theme by broadening or narrowing it.
In many situations, you may also want to reconfigure a high-performing topic into a different form; for instance, transforming a webinar into a blog post.
Include representatives from all departments of your company in your conceptualizing meetings.
When everything is ready and you get inspired, you can formulate the brief for the designer. 
Details that PPC manager specifies for the designer:
Client's website, links to the FB, IG pages, link to the competitor's fb library
Target audience we would like to enrich with this content, the product we need the creative for
Channel, amount, format (image, GIF, video), sizes based on the platform requirements
Mood, preferences on the colors if there are any
Texts that should be on the image, video
DDL when we need the content to be ready
Account / PPC Manager shares the materials:
Links to Google drive with images, videos that can be used as a base for the content marketing assets
User generated content we can consider to use
*logo of the client should be included (ask in case client would like to include the logo)
Links to the music (if it's video) – free sources (ex https://www.youtube.com/c/audiolibrary-channel)
Example: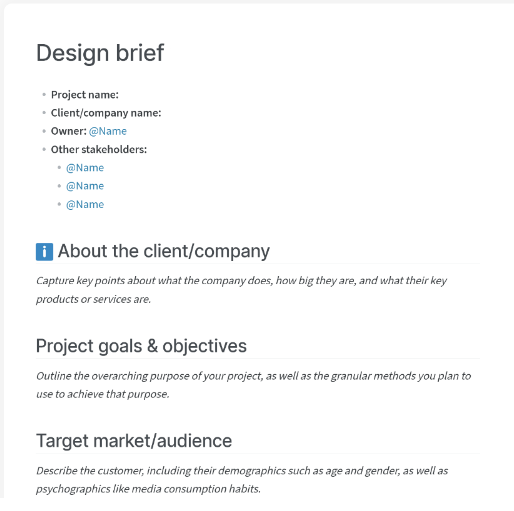 Careful content planning can ensure that everyone involved with the content creation process is on the same page. To make the planning process easier, you can make use of a visualization tool. This will demonstrate the time frame you have already gone through, how many items of each type are still pending, and how much energy it is going to take to create them.
Suggestions for planning content:
Create shared planning calendars and organize topics into clusters.
Analyze existing content. The performance metrics of existing content will help you build up a picture of the type of content that interests your target audience the most.
Connect each piece to a promotional activity and assign people and duties for each task.
Vary content formats to satisfy the requirements of different funnel phases and groups.
Establish realistic time frames to make room for unexpected problems.
Step 7: Publish and manage your content
Working out a process for producing and issuing all of your content plan marketing can be a difficult job. Before you execute your plan, it is essential to identify who will be doing what, where the material will be published, and when it will become available.
When there is a small team, it might be easy since one person can make the decisions. If the business expands, then it could be necessary to join forces with a few content teams in order to come up with an efficient system.
Nowadays, content marketing strategies strive to reduce confusion by organizing information from a topic-based viewpoint.
When making an editorial calendar that is focused on topics, it is possible to come up with a clear representation of the company's message and gradually become a leader in the industry.
By taking the time to plan your content, you can create high-quality content that resonates with your audience and helps you to achieve your content marketing goals.
Generating interesting content routinely is an essential element of successful marketing. Structuring your content makes it simpler for your staff to work together on it, produce it, and spread it. Having an efficient content strategy assists you in creating material that attracts visitors and increases sales.
One piece of well-liked content – irrespective of its form – can create a long-lasting impact long after it has been made. In addition, content plans enable you to address essential corporate strategies, such as preparing a budget or asking for resources. You will be aware of what you need to make and spread your content, so you can easily stay away from any unnecessary expenses or delays.
Now that you know the steps, it's time to get to work on your own content marketing strategy.